Config: FreeNAS-9.10.2-U4 on VMware ESXi 6.0 U3. 1 zPool = "Tank1" = 8 2-disk mirror vdevs (reference signature for all details), encrypted, no passphrase.

Problem: Boot environment gone, attempted to import with recent config backup + recovery key (/data/GELI not available to restore).
Attempt to resolve:
1. Prior to importing backup config (no volume shown) ... Import Volume = > Decrypt Disks using Recovery Key = 7 disks error due to "Missing -p flag" + 9 disks error due to "Wrong key"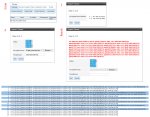 2. Import backup config (volume shown as locked) ... Attempt to unlock = Error due to no keyfile in /data/geli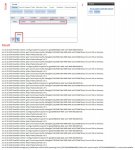 3. Detach Volume, reboot, still no luck.
I believe if I had the /data/GELI keyfiles I would be OK, but I believe there is a way to rebuilt them somehow? Thank you for taking the time to read.
Code:

[root@FreeNAS] ~# zpool status
  pool: freenas-boot
 state: ONLINE
  scan: none requested
config:
  NAME  STATE  READ WRITE CKSUM
  freenas-boot  ONLINE  0  0  0
  da0p2  ONLINE  0  0  0
errors: No known data errors

Code:

[root@FreeNAS] ~# gpart show
=>  34  16777149  da0  GPT  (8.0G)
  34  1024  1  bios-boot  (512K)
  1058  6  - free -  (3.0K)
  1064  16776112  2  freebsd-zfs  (8.0G)
  16777176  7  - free -  (3.5K)
=>  34  11721045101  da1  GPT  (5.5T)
  34  94  - free -  (47K)
  128  11721045000  1  freebsd-zfs  (5.5T)
  11721045128  7  - free -  (3.5K)
=>  34  11721045101  da2  GPT  (5.5T)
  34  94  - free -  (47K)
  128  11721045000  1  freebsd-zfs  (5.5T)
  11721045128  7  - free -  (3.5K)
=>  34  11721045101  da3  GPT  (5.5T)
  34  94  - free -  (47K)
  128  11721045000  1  freebsd-zfs  (5.5T)
  11721045128  7  - free -  (3.5K)
=>  34  11721045101  da4  GPT  (5.5T)
  34  94  - free -  (47K)
  128  11721045000  1  freebsd-zfs  (5.5T)
  11721045128  7  - free -  (3.5K)
=>  34  11721045101  da5  GPT  (5.5T)
  34  94  - free -  (47K)
  128  11721045000  1  freebsd-zfs  (5.5T)
  11721045128  7  - free -  (3.5K)
=>  34  11721045101  da6  GPT  (5.5T)
  34  94  - free -  (47K)
  128  11721045000  1  freebsd-zfs  (5.5T)
  11721045128  7  - free -  (3.5K)
=>  34  11721045101  da7  GPT  (5.5T)
  34  94  - free -  (47K)
  128  11721045000  1  freebsd-zfs  (5.5T)
  11721045128  7  - free -  (3.5K)
=>  34  11721045101  da8  GPT  (5.5T)
  34  94  - free -  (47K)
  128  11721045000  1  freebsd-zfs  (5.5T)
  11721045128  7  - free -  (3.5K)
=>  34  11721045101  da9  GPT  (5.5T)
  34  94  - free -  (47K)
  128  11721045000  1  freebsd-zfs  (5.5T)
  11721045128  7  - free -  (3.5K)
=>  34  11721045101  da10  GPT  (5.5T)
  34  94  - free -  (47K)
  128  11721045000  1  freebsd-zfs  (5.5T)
  11721045128  7  - free -  (3.5K)
=>  34  11721045101  da11  GPT  (5.5T)
  34  94  - free -  (47K)
  128  11721045000  1  freebsd-zfs  (5.5T)
  11721045128  7  - free -  (3.5K)
=>  34  11721045101  da12  GPT  (5.5T)
  34  94  - free -  (47K)
  128  11721045000  1  freebsd-zfs  (5.5T)
  11721045128  7  - free -  (3.5K)
=>  34  11721045101  da13  GPT  (5.5T)
  34  94  - free -  (47K)
  128  11721045000  1  freebsd-zfs  (5.5T)
  11721045128  7  - free -  (3.5K)
=>  34  11721045101  da14  GPT  (5.5T)
  34  94  - free -  (47K)
  128  11721045000  1  freebsd-zfs  (5.5T)
  11721045128  7  - free -  (3.5K)
=>  34  11721045101  da15  GPT  (5.5T)
  34  94  - free -  (47K)
  128  11721045000  1  freebsd-zfs  (5.5T)
  11721045128  7  - free -  (3.5K)
=>  34  11721045101  da16  GPT  (5.5T)
  34  94  - free -  (47K)
  128  11721045000  1  freebsd-zfs  (5.5T)
  11721045128  7  - free -  (3.5K)