Community Manager
Administrator
Moderator
iXsystems
Joined

Mar 25, 2021
Messages

115
TrueCommand 2.2 is now available as a "Nightly" image for testing, ahead of its planned release over the coming weeks in mid-July 2022. TrueCommand 2.2 is necessary to make use of the additional
TrueNAS SCALE 22.02.2
APIs, specifically for Clustered SMB.
TrueCommand 2.2 is another major step in improvements for
TrueCommand
. There are over 170 bug fixes, improvements, and features. The most notable changes are:
Reworked Stats engine:
Moving from influx to rrd files makes TrueCommand more robust if memory is in short supply. This will also make TrueCommand Cloud more reliable for larger deployments. TrueCommand 2.2 will automigrate the configuration and stats when it first boots up. A longer QA cycle is appropriate given this major change.
Improved Certificate handling:
Identified and resolved a number of issues with Certificates that should simplify deployments.
Clustered SMB support:
APIs and a wizard for setting up an SMB cluster are included. These can be used with TrueNAS SCALE 22.02.2 (or later).
Improved Middleware:
Better error handling and testing frameworks will ensure quality in the future.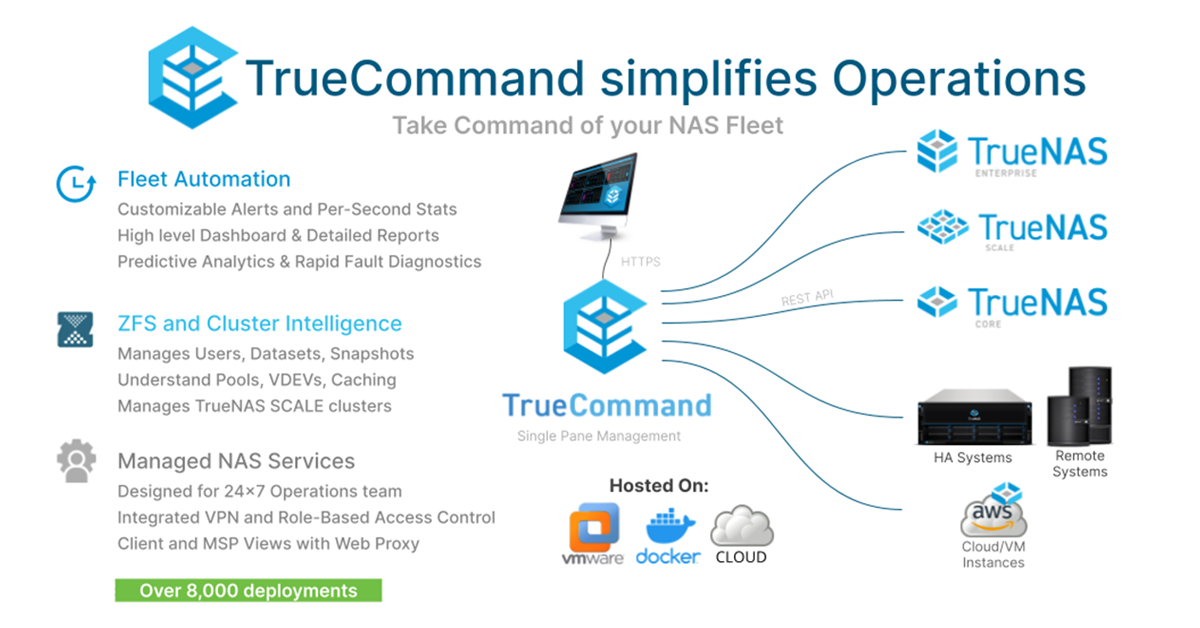 TrueCommand has been well tested with TrueNAS 13.0 as well. TrueNAS 13.0-U1 has scalability improvements which ensure larger systems can be safely deployed with TrueCommand.
The nightly version of TrueCommand 2.2 is available on
DockerHub
with the tag "nightly". TrueCommand remains free for systems with less than 50 drives.
The nightly version should only be used on test systems and not for production. The supported version will be announced and available in mid-July after the quality assurance benefits of internal and Community testing. Thanks in advance to all those that will test and provide feedback.