Joined

Apr 16, 2019
Messages

15
Greetings all,
My current server is a Dell PowerEdge T320 with a 6 core, 12 thread Xeon Ivybridge E5. I have 64GB of DDR3 ECC. I also have 8x4TB WD Red CMR drives. As well as a Samsung 970 Evo NVMe SSD for caching. My current server OS is Ubuntu Server 20.04 with my storage pool being ZFS in either a Nested RAIDz, Mirrored RAIDz or Striped RAIDz. I cant really remember the command I typed to make the array. I do know it is 2 RAIDz sets in the same pool.
Here is a image of my pool layout (used Cockpit's ZFS plugin to capture this image):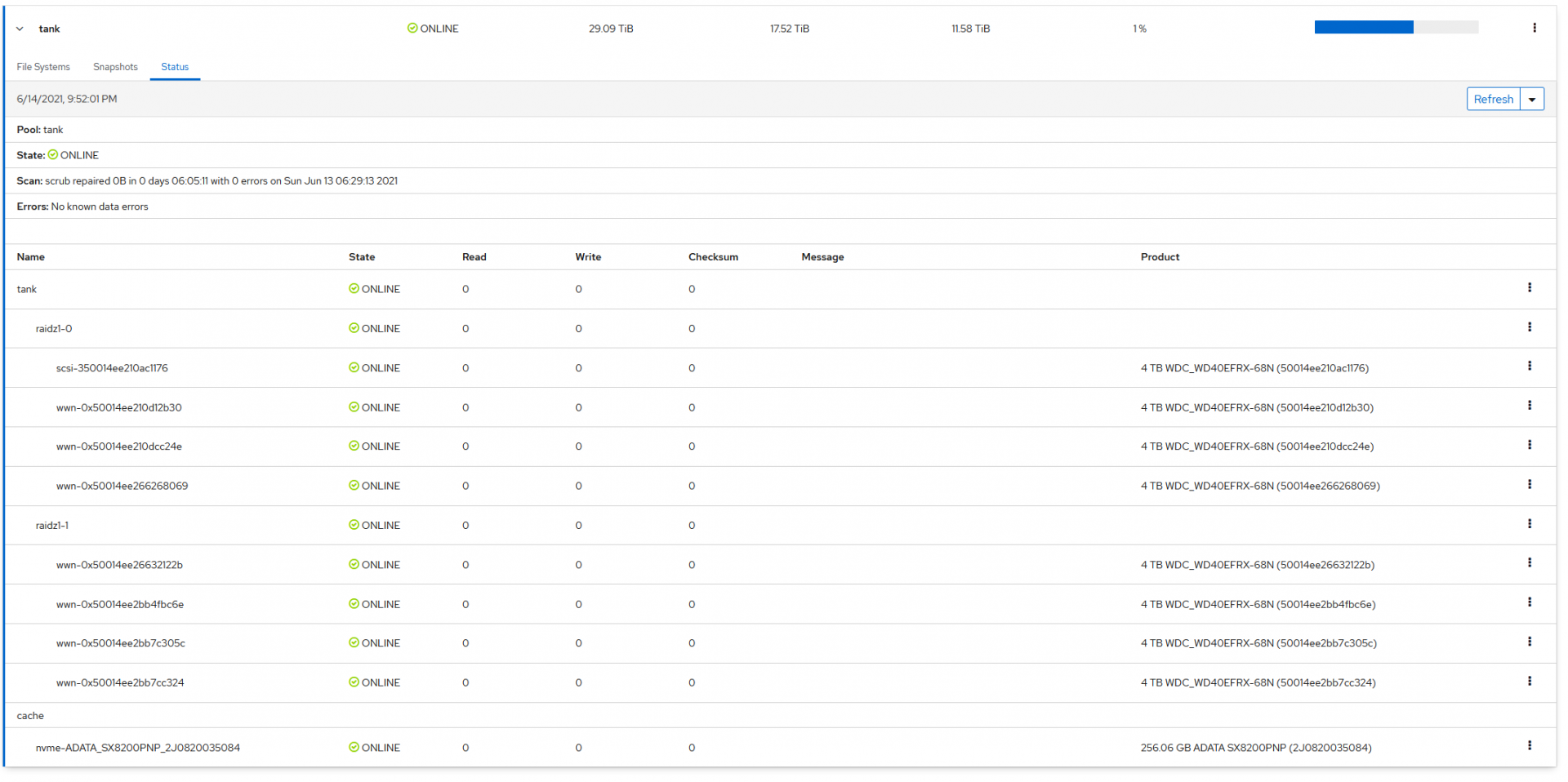 I do not want to spend more than 1200 on parts. I mainly use this for serving media to my TV and when Im on the road. I run Plex and Jellyfin (because sometimes one works when the other doesnt). For transcoding I have a Nvidia Quadro P2200. All my services run in Docker behind a Linuxserver.io SWAG reverse proxy.
I am VERY interested in moving to TrueNAS SCALE as it is seemingly the best of both worlds (FreeNAS + Linux). My server is connected to a APC Back-UPS Pro 1300 S via the USB connector.
My current server is LOUD and HOT. It doubles as a heater for my apartment in the winter and overloads my AC in the summer. It is easily the loudest thing in my apartment. I can still hear it through Active Noise cancellation headphones.
Thus, I want to replace it with a quieter, cooler server.
I have found some Supermicro Denverton Atom embedded boards that seem cool since I wouldn't need my PERC H310 card anymore as they have onboard mini-SAS HD ports. I have also seen the embedded Epyc boards. If I wasnt using ZFS, maybe ECC wouldn't be that big of a thing to me but it is. ( having 32TB raw storage helps too).
Cases are also a thing I have difficulty with as I enjoy Hot-swap bays but can live without them if necessary. I have tried to find the top-to-bottom 5.25 bay cases like the Antec 1200 and Antec 900 but they are not sold anywhere I can find. I had thought to use the Silverstone or Icydock 3x5.25 to 4x3.5 bay kits to get my hotswap fix.
Supermicro has some workstation cases that would do it but those alone are easily ~$500.
I am personally not a fan of putting a rack in my small apartment. Not just from the space constraints but also the noise. I would have to seriously mod one to reduce the noise.
As it is, I have kind of settled on the Fractal Design Node 804. I will be moving my 8x WD Reds over.
I will need to find ( unless I am missing something here):
I do have a router with a single SFP+ port on it ( Ubiquiti EdgeMax SFP+)
I would appreciate any assistance it picking the parts I would need for my build.
What I currently have that I would be using in the new TrueNAS SCALE build:
Nvidia Quadro P2200 (Transcoding card)
PERC H310 (IT Mode) - If the motherboard doesnt have SAS ports for SATA breakout cables
Samsung 970 Evo NVMe (ZIL or L2ARC cache, may add another)
8x 4TB WD RED HDDs (SATA)
Crucial MX500 SSD (OS Drive)