AFP Migration
Since the Apple Filing Protocol (AFP) for shares is deprecated and no longer receives updates, it is not in TrueNAS SCALE.
However, users can sidegrade a TrueNAS CORE configuration into SCALE, so TrueNAS SCALE migrates previously-saved AFP configurations into SMB configurations.
To prevent data corruption that could result from the sidegrade operation, in TrueNAS SCALE, go to Windows (SMB) Shares, select the more_vert for the share, then select Edit to open the Edit SMB screen. Click Advanced Options and scroll down to the Other Options section. Select Legacy AFP Compatibility to enable compatibility for AFP shares migrated to SMB shares. Do not select this option if you want a pure SMB share with no AFP relation.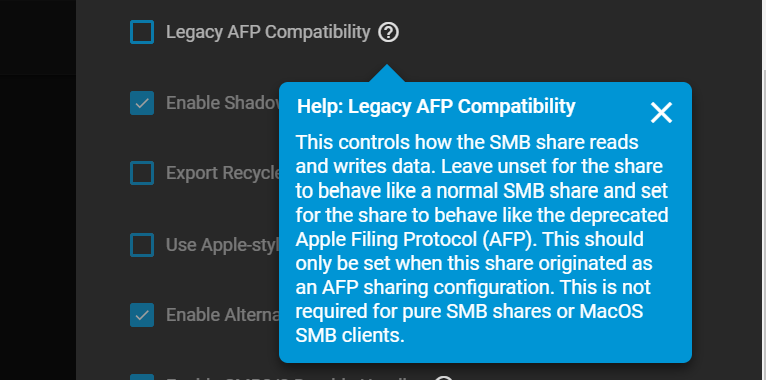 Netatalk service is no longer in SCALE as of version 21.06. AFP shares automatically migrate to SMB shares with the Legacy AFP Compatibility option enabled. Do not clear the Legacy AFP Compatibility checkbox, as it impacts how data is written to and read from shares. Any other shares created to access these paths after the migration must also have Legacy AFP Compatibility selected.
Once you have sidegraded from CORE to SCALE, you can find your migrated AFP configuration in Shares > Windows Shares (SMB) with the prefix AFP_. To make the migrated AFP share accessible, start the SMB service.

Since AFP shares migrate to SMB in SCALE, you must use SMB syntax to mount them.
On your Apple system, press +K or go to Go > Connect to Server….
Enter smb://ipaddress/mnt/pool/dataset, where:
ipaddress* is your TrueNAS IP address
pool is the name of the pool
dataset is the name of the shared dataset